Posted by Vikki Schlegel/Earth's Answers on 12th Feb 2015
Can Turmeric Really Shrink Tumors on Our Fury Friends?
Below is the original post made in 2015 I have since made revisions for 2019 and found many other great natural protocols to shrink tumors and boost and balance the immune system.
Following the original protocol with the added amendments are still my go to for tumors on the skin.
UPDATE 2019 : Added BLACK SEED OIL 1 Soft gel capsule internally daily. The brand I used was Kiva from amazon
LINK HERE https://amzn.to/2NaDlSx This is my affiliate link, this is the exact brand I used to shrink my sinus tumor and now have my boxers on it too :) You can use other brands but they are not all equal, I have found Kiva to be excellent and work!! Do make sure the Black seed oil you get it pure, cold pressed and hexane free and has a high level of thymoquinone.
TURKEY TAIL MUSHROOM!! Canine Blend I have used is here https://amzn.to/2Lu7hau I feed this as a immune booster and to enhance the cancer killing cells.
Here is a story of two Boxers with tumors (Skin Cancer) and excellent results with the use of Turmeric and a few other natural ingredients.
Supplies we used: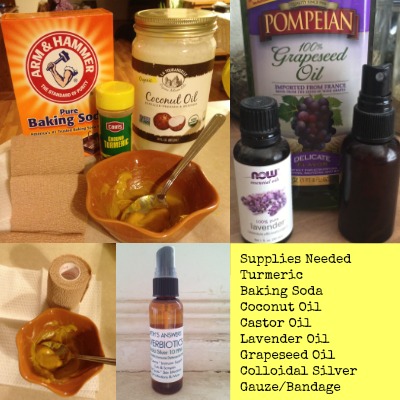 Supplies for Nightly Treatment Paste:
Organic Unrefined Raw Organic Coconut Oil
Ground Turmeric https://amzn.to/36gTgVQ
Castor Oil Brand I use https://amzn.to/2LszLkT
Sodium Bicarbonate (Baking Soda) Bob Mills is the best I have found, https://amzn.to/2NUtP5B
Glass or ceramic mixing bowl/spoon
Supplies for Daytime Treatment
Colloidal Silver 10 ppm I use what I make myself and I do sell it too in my online store
Lavender Oil Brand I use https://amzn.to/2Ls5SB4
Grapeseed Oil or even better MCT oil (Fractionated Coconut oil) The grape seed oil I use is here https://amzn.to/32Fxgl4
For nightly treatment paste we never really measured anything, but here is a guideline of how we mixed it.
1 tsp Coconut oil, 1/8 to 1/4 tsp ground powdered Turmeric, 1/4 tsp baking soda and a few drops of castor oil. Mix all well into a paste apply directly on gauze pad and apply to tumor, wrap for 8 to 9 hours for large tumors. for small tumors or small lesions, apply mixture and rub in 3 to 5 times daily.
For daytime treatment we used a spray bottle for the Colloidal Silver, and also mixed 1 ounce grapeseed oil and 10 drops 100% pure Lavender Oil in a 2 ounce spray bottle.
Abby: Boxer
Female
56 LBS
6 Yrs Old
Abby, is healthy Boxer girl..... very active as she lives on a working ranch, she eats a pretty good natural diet with quality natural dry kibble..... She had one puppy at the age of 2, not one litter, actually one huge puppy. Her little boy, we named drake and he is now 4 yrs old and over 100Lbs. Drake is the 2nd dog in this test with a tumor, however Drake's tumor grew much bigger than his Mother's did. While Abby's tumor is gone, Drakes tumor is still in the shrinking process.
We will start with Abby's Skin Cancer..... Most likely basil cell carcinoma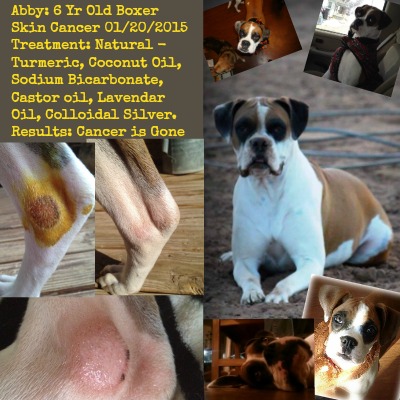 When I noticed Abby's red spot on her inside right hock, I was not sure at that point what it was, I thought it was a scrape, so I doctored it with some 10 ppm Colloidal Silver. The spot grew larger fast and had oozy strange nodules starting inside of it's circumference. After about 7 days I came to realize this was a skin cancer spot, by then you could see the birth of deformed cancer cells starting a tumor.
Day 1 through Day 30
Evening - Bed Time: Rubbed nightly paste mixture on Abby's spot,
Morning - Spray with Colloidal Silver 10 ppm
Afternoon - Spray with Lavender Oil and Grapeseed oil
After day 30 the spot had vanished with just the slightest redness still left, I quit the treatment. 3 days later the spot started back, darkening in color and definitely growing back.
Day 33 through day 40
Evening - Bed Time: Rubbed nightly paste mixture on Abby's spot,
Morning - Spray with Colloidal Silver 10 ppm
Afternoon - Spray with Lavender Oil and Grapeseed oil
After 7 more days of treatment, there was no sign of redness and we quit treatment. It has now been over 60 days without treatment and it has not returned.
Drake: Boxer Mix (Abby's Son)
Male
103 LBS
4 Yrs Old
Basil cell carcinoma, golf ball on Dec 19th 2015 Drake is a healthy Boxer Mix boy..... Before he came to the ranch in Dec of 2014, he lead a semi-active life, both his parents worked long hours and Drake stayed indoors most of the day. He ate a healthy natural diet of quality dry kibble and some table scraps. He developed a tumor on his right front leg that grew very rapidly. It was about the size of a half a golf ball when we started treatment. Drakes tumor was very aggressive and three times the size of Abby's, so treatment is much more aggressive and lengthy.
Dec 19th 2014 - Day 1 through Day 30
Evening - Bed Time: Applied nightly paste mixture on a gauze pad applied to the tumor and wrapped for 8 to 9 hours
We did this right before we went to bed, so Drake would leave it on.
Morning - Spray with Colloidal Silver 10 ppm first thing after unwrapping.
Mid Morning - Spray with Lavender Oil and Grapeseed oil
Mid Day - Spray with Colloidal Silver 10 ppm
Mid Afternoon - Spray with Lavender Oil and Grapeseed oil
Early Evening - Spray with 10 ppm Colloidal Silver
Notes: Gauze was filled with blood and other substances in the morning, there is a strange fowl smell to the tumor too.
When un-bandaging in the morning, the tumor is angry and inflamed, swollen and large, during the day the tumor shrinks, by evening you will see the results of the shrinking.
After day 30 we can clearly see that the tumor is shrinking,
Update: Today Feb 13th 2015 is day 46
Tumor is still shrinking. The skin around the tumor seems to be irritated from the paste. We will apply pure coconut oil around the tumor before treatment.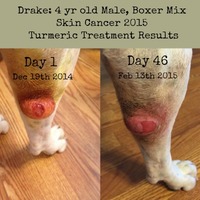 If you have a dog with a tumor or even a human?? and would like to try this and have any questions about our process....., please feel free to email! We would be glad to answer any questions and share more of our experiences.
We do not make any claims that this will work, we are just sharing our experiences with this treatment. We also do not endorse any products pictured, except our Earth's Answers Colloidal Silver 10 ppm Spray. We do make and sell our Colloidal Silver, however any Good quality Colloidal Silver will work!!!! :)
To contact us by email send questions to earthsanswers8@gmail.com
UPDATE OCTOBER 24th 2016 : Drake and Abby are both doing awesome!! Abby's tumor completely vanished, Drake's tumor is still there, but it is kinda like a limp hanging bag. It has stretched out from running and swinging and looks awful but you can clearly tell it has quit growing.
I have altered some of the protocol over the past two years since the last post, READ BELOW
My lab, Lacey who is 16 yrs old had a large tumor in her breast and in her throat, she was choking daily. Since a topical treatment wasn't as beneficial I came up with a regimen that not only shrank her internal tumors but helped both the Boxers Drake and Abby!
Here is a copy of one of the emails that I have sent out to many of my followers looking for help! This has some of the newer protocols I have my dogs on with great success!
If you have a dog with a topical (skin) tumor or internal tumor I would do all of it! The above topical protocol as well as the internal (feeding) protocol :)
Sorry to hear about your pup! Here is the protocol that I have been using for my dogs with cancer :) Darke has a large tumor on his arm and my lab Lacey has a large tumor in her throat and many in her breast and stomach. She has done amazing on this.
I also use the topical treatment I have posted on the blog but added this as well, :)
Mix together and FEED twice daily for the first 3 days then once a day for up to 90 days
(The turmeric and spirulina can be feed all the time but Pau d Arco can be a anticoagulant (blood thinner) so you will want to skip a few weeks before starting again or not use it 2 weeks before any surgeries.
1 heaping tablespoon organic raw unrefined coconut oil
1 500 mg Spirulina
1 500 mg Turmeric
From time to time I add some black fine pepper to the mix as it enhances the turmeric, I don't do it every time because it is acidic and can cause some stomach upset.
You can buy all those online in bulk bags and measure out the serving size which is usually to 500 mg. Much cheaper than using capsules. :) Link to the place I buy mine is below
Google the budwig diet for dogs too.... feeding blended cottage cheese and flaxseed oil.
No grain kibble, except some rice is ok. cooked foods and raw food are super
NO TAP WATER! bottled or well water only!
Drake and Lacey also eats often, wheatgrass powder, fish oil, rose hip tea, nettle tea, flaxseed, hemp seeds, veggies, goat's milk, raw farm eggs and stuff like that. They also get colloidal silver to boost their immune :)
I have found even if they have cancer, they live much longer and healthier if you do NO conventional treatment. that includes me! I was diagnosed with sinus cancer 9 years ago and was given a grim prognosis and told I must do chemo and surgery, I chose not to and went all natural, well.... it's been 9 years and I am super healthy, still have my tumor behind my eye but it quit growing! I was told by OU medical center that I would not live a year without chemo. lol!
I buy my Pau D Arco and fish oil and many other things at Piping Rock.... I think if you use this link you will get $10 off your first order http://www.pipingrock.com/?rwcode=AALLUV or just go to pipingrock.com and use the code AALLUV to get $10 off your first order. It has the best quality and super cheap prices plus only $3.50 to ship
Hope your baby gets well soon :)
Hello Everyone, ANOTHER UPDATE!! June 25th 2018 This month my two very old dogs passed, my Boxer Tyson who was 14 and my Lab Lacey, I put them both down. Lacey was nearly 18 years old and was just really old, life wasn't much fun for her anymore :( She was in pretty good health but slept a bit and became incontinent and all the things old age brings. I think all the good food and supplements really gave her some good golden years but we do all have to leave this earth eventually! ugh! Tyson had Kidney problems from the time I rescued him at 8 years old, he was good and healthy on all my protocols but I think his kidneys at 14 yrs old just gave out and it was time! :( I do believe if I had Tyson from a puppy, he would of been much healthier in his older years but overall 14 for a boxer is great!
NOW Some new stuff I have found, First off, Drake and Abby are both doing great! Abby is 10 and Drake is now 7 years old. Drake still has his dangling Tumor Ball as we call it and for the most part it stays benign however it has had a few flair ups when I back off any protocols. BUT omg ..... let me tell you, I have had my tumor behind my eye for 13 years read above if you missed that anyway, I stumbled on Black Seed OIl and decided to start taking it, in 2 months I went through several periods of feeling awful and I got what I thought was my first bacterial sinus infection because for two solid months there was a terrible odor coming from my nose and the mucus I had, it wasn't green, it was a dirty brown..... omg was it gross!! well guess what, the Black Seed Oil destroyed that tumor behind my eye and that was the smell. The tumor is gone and my eye is returning to normal!! So I have now started experimenting on the dogs with tumors with Black Seed Oil and so far Drake's tumor is definitely showing signs of apoptosis, It is dying!!! Of course I have him on the above protocol too but added Black Seed Oil both topically and give him 1000 mg once daily. I do have Abby on 500 mg daily too for preventative.
So far I have used many different Black Seed Oil Companies and have had great success of course I love my Piping Rock and just ordered a 16 oz bottle of the liquid for topical use, I personally like Kiva black seed oil gel caps and give the dogs gel caps buried in some cream cheese. Black Seed Oil taste awful but the dogs will lick it.
This is my piping rock link for the topical Black seed oil and many other supplements I love amazon and piping rock for many of my favorite brands.
http://www.pipingrock.com/?rwcode=AALLUV
I have also started me and the dogs on our bullet proof diets, with MCT oil, I take mine in organic coffee or chai tea, the dogs get a bullet proof dandelion chicken broth tea. Great stuff!! I have also added daily greens in their stews, with kale, spinach and cilantro etc.
I am trying to find time to start making videos on all the protocols I use!! I have my Youtube channel already, I just need to jump in and start!! My channel is https://www.youtube.com/channel/UCvcGQH0WtEkNlHauyNENXQQ I do have several videos up and more on the way!! Please stop by and check them out and subscribe to my channel.
Be sure to check back for more updates. Stop by and see my website http://www.earths-answers.com/
OCTOBER 2019 UPDATE - Abby is 10 years old last month, her stomach swelled up and she became anemic, being we are in such a rural area, I am opting to treat her as she has Hemangiosarcoma and use chinese meds on her, started her on yunnan baiyao to stop bleeding, and also have her on Xiao Chai Hu Tang (Minor Bupleurum Decoction) as of today she is doing really well! I'll be posting on her protocol as soon as I get her a little further along for results. video coming too.
or visit me on Etsy at https://www.etsy.com/shop/newearthanswers
I recently partnered links with an awesome company, Cognitune .....here is a great video on the difference and benefits MCT oil has verse Coconut Oil.
Be sure to visit their website to read more on the topic as well.